First published in IGBP's Global Change Newsletter Issue 73, April 2009
Changes in the carbonate system of the global oceans
The Ocean in a High-CO2 World:
Science highlights from the symposium
Richard A. Feely
Christopher L. Sabine
Dana Greeley
Pacific Marine Environmental Laboratory,
NOAA
Seattle, Washington, USA
richard.a.feely@noaa.gov
Robert H. Byrne
College of Marine Science
University of South Florida
St. Petersburg, FL, USA
James C. Orr
IAEA's Marine Environment Laboratories
Monaco
j.orr@iaea.org
Frank Millero
Rosensteil School of Marine and Atmospheric Sciences
University of Miami
Miami, FL, USA
Increasing atmospheric carbon dioxide is rapidly changing seawater chemistry as a result of the acidifying effects of CO2 on seawater. This acidification makes it more difficult for marine organisms (e.g., corals, plankton, calcareous algae, and molluscs) to build skeletons and shells of calcium carbonate. Impacts on these calcifying organisms will lead to cascading effects throughout marine ecosystems. Repeated hydrographic cruises and modelling studies in the Atlantic, Pacific and Indian oceans show evidence for increased ocean acidification. The dissolved inorganic carbon increases in surface waters of the Pacific Ocean over the past 15 years are consistent with pH decreases (Figure). These changes can be attributed, in most part, to anthropogenic CO2 uptake by the ocean. These data verify earlier model projections that ocean acidification is occuring as a result of the uptake of carbon dioxide released by the burning of fossil fuels. From these results we estimate an average upward migration of the aragonite saturation horizon of approximately 1-2 metres per year in the Pacific and Indian oceans. Thus making water corrosive to calcifiying organisms that are closest to the surface.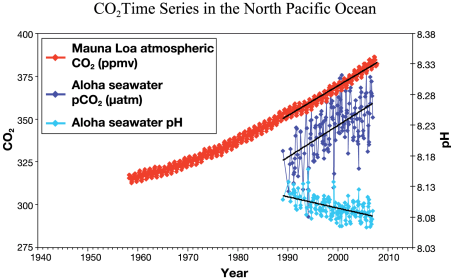 Figure 1:
Time series of atmospheric CO2 at Mauna Loa and surface ocean pH and pCO2 at Ocean Station Aloha in the subtropical North Pacific Ocean. Mauna Loa data: Dr. Pieter Tans, NOAA/ESRL; HOTS/Aloha data: Dr. David Karl, University of Hawaii (modified after Feely, 2008).

References
Feely, R A (2008) Ocean Acidification. In; State of the Climate in 2007, Levinson D H and Lawrimore J H (eds.).
Bull. Am. Meteorol. Soc.,
89(7): S58.